Eportfolio Masterclasses are interactive sessions which lead participants through the conceptual and practical application of eportfolios for learning, assessment and meeting professional standards.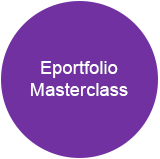 Eportfolio Masterclasses we can bring to you:
Your investment = from $660* for a half day masterclass (no limit on numbers) or $990* for a full-day masterclass run on the same day or over two consecutive days (+ travel/acdtn exps for training beyond the Adelaide metropolitan area).
Other eportfolio workshops
Introduction to eportfolios
Eportfolios as flexible learning spaces
Eportfolios and Eassessment – using assessment for learning principles

This work by eportfolioservices.com.au is licensed under a Creative Commons Attribution 3.0 Unported License.