The full-day Eportfolio Workshops are hands-on and will require that participants have a computer/laptop, and are based on the Mahara eportfolio system.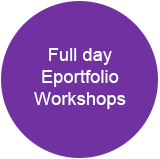 Eportfolio Services can provide the Mahara eportfolio system for this training, or the training can be done using your Mahara eportfolio system.
__________________________________________________________________
Full-day Eportfolio Workshops:
Eportfolios as professional / personal online learning spaces – Get started in using eportfolios
What is an eportfolio and why would I use one?
Developing an digital profile for employment, promotion, professional standards etc
Participating in a professional community network
 ePortfolios for eAssessment – Using eportfolios for online assessment & Recognition of Prior Learning (RPL)

Those people only attending this session must have background knowledge in using eportfolios and Mahara
Why use eportfolios for eAssessment?
Developing eAssessment activities using eportfolios
Managing eAssessment using eportfolio
Your investment*:
One workshop = $990* for up to 20 people
Both workshops (in one location) = $1,780* for up to 20 people
*All prices are inclusive of GST

This work by eportfolioservices.com.au is licensed under a Creative Commons Attribution 3.0 Unported License.