Eportfolios can offer a robust process for supporting the recognition of prior learning (RPL) assessment process, when based on the "RPL Done Well in VET" model (McKenna & Mitchell, 2006).
1. Being learner-focussed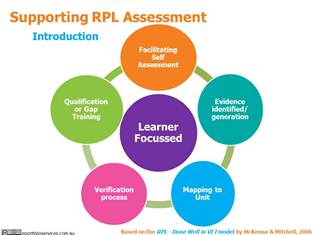 Eportfolios enable a 'learner-focussed' approach to RPL assessment, as a candidate can:
Be provided with examples of how others have created their eportfolio RPL through the RPL assessor making an electronic 'copy' of prior candidates' RPL eportfolios which they can easily share with the new candidate (with permission, of course!)
Have their progress monitored regularly by the RPL assessor through 24/7 asynchronous access (with permission, of course!)
Share their eportfolio with peers, mentors, supervisors and/or employers to get feedback and receive encouragement during the RPL process (with permission, of course!)
2. Facilitating self-assessment
The 'facilitated self-assessment' process can be captured using:
Smart pens or MP3 recorders to record conversations and interviews
Blogs or journals to write a professional autobiography about their work experiences
Flip cameras to record a digital story about themselves in their workplace or community setting
Resume builders within the eportfolio or upload their existing resume
All of which is uploaded as evidence into their eportfolio.
3. Identifying and generating evidence
Additional evidence, such as work reports, workplace examples, reports etc, can be either uploaded into or created in the eportfolio.
By 'tagging' or adding "key words" to each piece of evidence or 'artefact', candidates can easily aggregate their evidence around a particular Unit code or theme.
This allows a piece of evidence to be uploaded once and then 'tagged' with the Unit codes/key words they relate to.   The 'tag' can then be 'searched', and the eportfolio system will aggregate together any artefacts which has this Unit Code attached them.  This allows evidence to be quickly pulled other to demonstrate whether the candidate has the right evidence to be assessed as competent for that Unit.
4. Mapping evidence to Units
Candidates can copy an 'RPL mapping tool' template prepared by the RPL assessor from within the eportfolio system into their own eportfolio, which they can then add their existing and generated evidence into the appropriate spaces within the template.
5. Verifying evidence
To support the verification process, third parties, such as supervisors and employers, can add comments on artefacts within the candidate's eportfolio to verify that the evidence is their own work.
Final copies of the candidate's eportfolio can be submitted to the RPL assessor, and then locked and kept for auditing purposes.
6. Issuing documentation and/or providing gap training
If the candidate is successful in gaining RPL, electronically issuing a digitally signed and/or encrypted Parchment or Statement of Attainment means the candidate can include this document as part of their eportfolio for future use (see step 7 below).
If gap training is required, the candidate can use their eportfolio to help plan and manage their personal or individual learning plan.
7. Value adding the RPL process
Using an eportfolio for the RPL process means that the candidate now has an electronic Resume (eResume) which they can use for:
Job/course applications
A promotion, and/or
To meet industry/professional standards
They can serve as an excellent lifelong learning support tool.
Seven Ways Eportfolios can support RPL Assessment