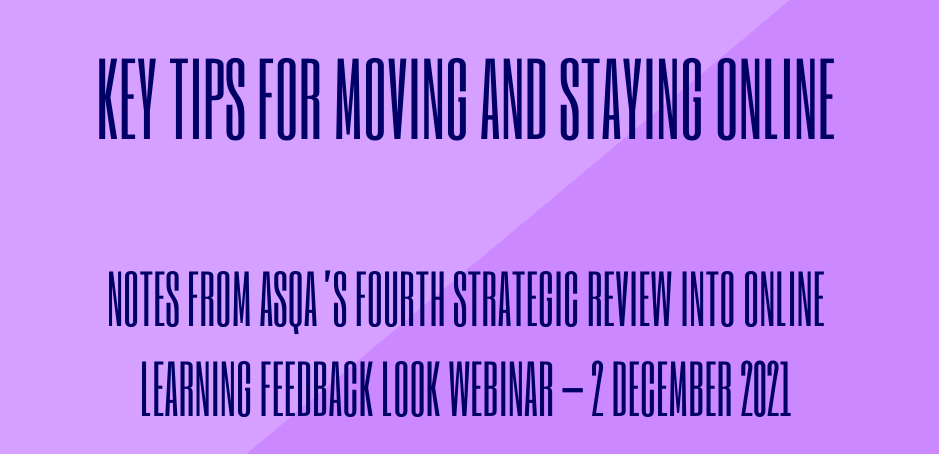 Here are my notes from ASQA's fourth strategic review into online learning feedback look webinar – 2 December 2021.
The initials in brackets refer which speaker made which point (+ I have added some of my own thoughts based on my 16 years of training and assessment online). The Referencing Key for each person this is at the bottom of this post.
What learners want and need when training online:
Learners like the flexible, convenient and choice about training online, however, they need support to help them from feeling isolated as an online learner (KN).
Some learners also need support to build the digital literacy to use online learning environments, and when they are experiences tech issues (KN). However, it should not be assumed that all online learners need this, so a personalised approach where a learner can have someone guide them through how to use an online learning environment which meets their needs is important (DC).
Learners find live online training sessions (webinars) useful when they are getting active help with assessments and when they are to getting their questions answered in real time. Learners don't like it when content covered in self-paced materials is delivered during a webinar (DC).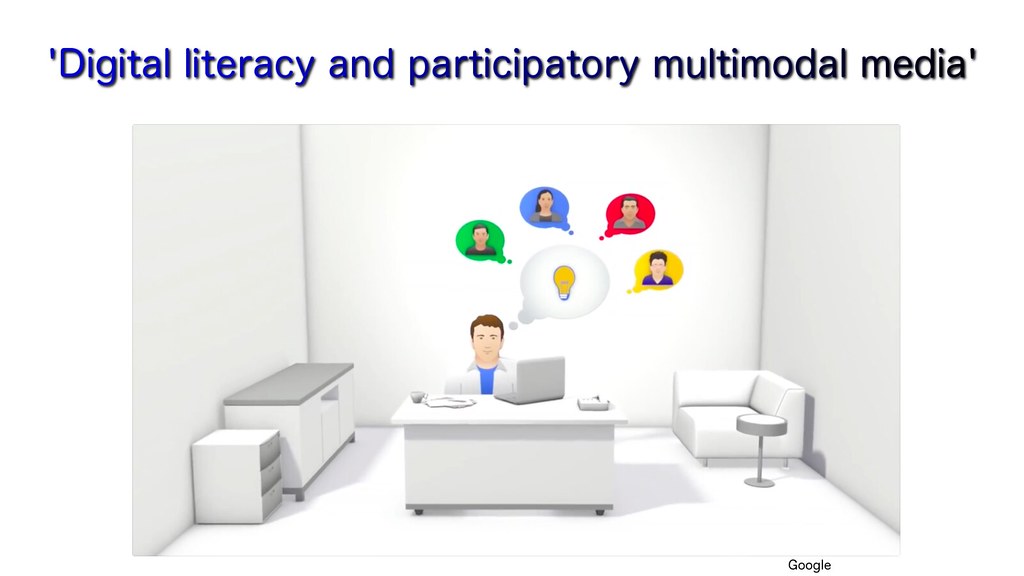 You should also find out what your students like to do when in an online session, and clearly communicate the purpose and expectations of each training session (DC).
For online content, ensure that there is clarity and guidance about the learning and assessment pathway. Explain the 'what, when and how' of using the online content.
"2014 Google Digital Literacy Multimodal Skills slide 19" by JJFBbennett is licensed under CC BY 2.0
Also cater for learners with different backgrounds/experience by having any underpinning or pre-requisite content as an optional, supplementary part of the course, so definitely don't lock step content (DC) as learners like to navigate their own pathway through the course (AM).
Learners like convenience of having on-demand video resources which cover key concepts and that are available in digestible bites. However, they don't like over-produced video content, or voice-over PowerPoint presentations, as they like to see the trainer's facial expressions and body language (DC).
Don't assume that all learners want to engage with their peers when they are training online. Ask learners what their needs and wants are around participating in peer support networks when training online. Peer to peer learning needs to add value to the online training experience and can be done via discussion forums (DC) or spaces like FlipGrid and VoiceThread (AM).
One of the best ways to support learners online is through a "homework club", where learners can "dial in" when they need help (DC).
When designing online course, start with end in mind by considering how to retain online learners, such as knowing when learners might become disengaged in the online course. This will allow you to incorporate learning activities where learners can apply their learning straight away. This also helps learners to absorb and retain their training (RM). Avoid buying generic content and assessments, but rather understand the learner cohort and what will they will actually need in their workplace to determine the content and assessment activities (RM).
Ensure that instructions for assessments are clear and easy to read to avoid learners getting stuck or having to resubmit their online assessment evidence.
"design is …" by anikki* is licensed under CC BY 2.0
Don't expect to get everything right straight away, so adopt the mantra of 'progress over perfection', as research shows that "If you get one percent better each day for one year, you'll end up thirty-seven times better by the time you're done" (Clear, No date) (DC).
Be strategic about improving your online practice and your online content by having a progress plan. Also be clear about which mode of online delivery (DC) – See Dixit's (2016) Fill your Training Plate from the Online Training Buffet for the different types of online delivery modes.
Also consider the learning outcomes, your available resources, as well as, your learners' preferences and needs (DC).
Supporting trainer/assessors build their digital literacy:
Learners want their trainers to have the right digital literacy skills to effectively train online (KN) but trainers need to understand the differences between developing digital skills to use an online tools/system vs how to use online tools/systems to teach, as it is better to focus on why an online tool/system helps to deliver the training then learning the step-by-step of using an online tool/system (DC).
This is best addressed when individual trainers identify where there are opportunities to improve in their online training/assessment, and then seek out PD to support this (DC).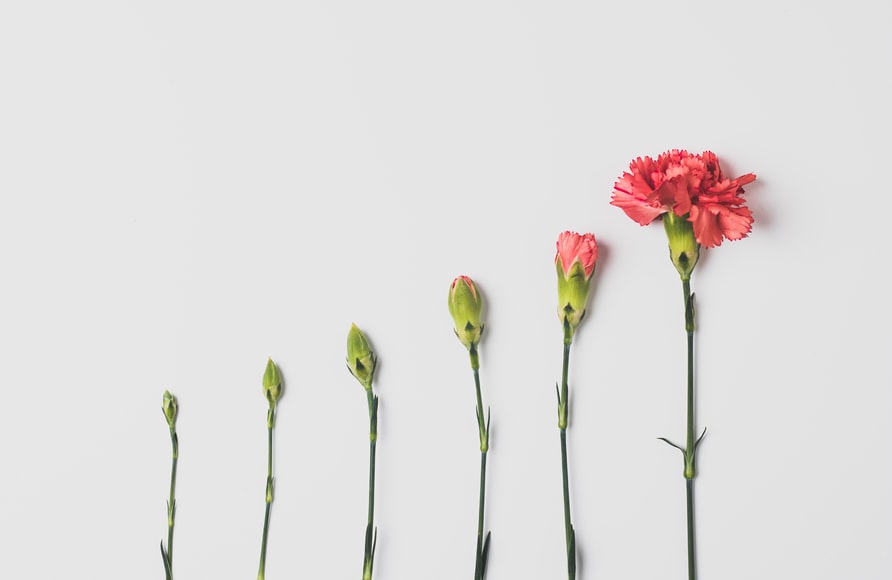 Currently, there is no need for trainers and assessors to gain the new e-learning/e-assessment skills to train/assess online, but ASQA is seeing some providers creating in-house PD programs to support their trainers' online delivery and assessors' online assessment capability development (JK).
Opportune Professional Development uses a range of ways to help their trainers build their own digital literacy, from trainers being online learners themselves, to work shadowing or team teaching with other more experienced online trainers/assessors (RM).
Unsplash Licensed image by Edward Howell
They also use coaching strategies, and they have helped their trainers convert their face to face session plans into effective online live sessions (RM).
See the upcoming and 'Watch it now' PD offered by Allison Miller to support trainer/assessors build their digital literacy and teach effectively online at Skills Education.
We also offer a range of PD options – Check out our Professional Development Services.
Online training and assessment essentials:
Questions raised during Q&A time led to these key points:
Volume of Learning for online courses needs to be calculated by estimating how much time it would take a learner with little prior knowledge of a course to complete the online resources and activities (JK), and trainers should incorporate ways for learners to apply what they have learned (ideally, in the workplace), then report back about their experience as part of the Volume of Learning (RM)
Training and Assessment Strategy (TAS) must align to the intended delivery strategy, so TASs need to be updated to reflect any changes happening in the delivery and assessment practices around training and assessing online, as your TAS should guide the on-going training and assessment practices of a training product (JK)
Workplace observations can still happen online but assessors need to determine what can be assessed online by using video recording, use of third party evidence (JK) and live online observations (AM)
Rules of Evidence must still be adhered to, for example:

the validity of the evidence is ensuring that the online assessment evidence covers performance (not just knowledge)
there is the sufficiency of evidence through a range of evidence types (JK)
in terms of authenticity of learner evidence, make use of multi-factor authentication when learners are uploading content, and have learners provide photo identification when they upload videos so this can be checked against the learner's enrolment information (RM).
Student journey and student at the centre are still the key focus areas for ASQA:
While online training and assessment increased 60% during 2020, some training providers have delayed the delivery and assessment of some practical skills which are hard to assess online or need to be assessed in a workplace, so ASQA will continue to monitor the ongoing impact of delivering training online on student journey and the student experience (KN).
ASQA resources to support online training and assessment:
ASQA is also looking for training providers to share their good online training examples with them by contacting: strategicreviews@asqa.gov.au
Referencing Key:
KN = Kipley Nink, ASQA
JK = Judith Keller, ASQA
DC = Dr Deniese Cox, TeachingOnline.com.au
RM = Rachelle Matousek, Opportune Professional Development
AM = Allison Miller, Digital Capability
References:
Clear, J. No date. Continuous Improvement: How It Works and How to Master It, Accessed 2 December 2021, https://jamesclear.com/continuous-improvement
Dixit. P. 2016. Fill your Training Plate from the Online Training Buffet, Accessed 2 December 2021, https://blog.commlabindia.com/elearning-design/models-of-elearning-for-corporate-training