Digital literacy - the fourth literacy after LLN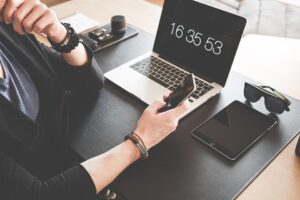 The need for effective digital literacy skills has been a recognised for a number of years (McLean, et al, 2020), however, the impact of COVID-19 has significantly increased the use of digital technologies by governments, businesses, educational institutions, community groups and individuals (CSIRO, 2020).
This increase was brought about by the need to stay connected with customers and colleagues, as well as, to ensure that essential services and food production could be maintained, even when access to supplies and staff were constrained. This forced many organisations to turn to the 'Cloud' to support work/learn from home practices, as well as, to digital automation and artificial intelligence to 'collect the crops' when people resources were scarce (Australian Industry and Skills Committee, 2022).
This demand for digital technology has also opened more 'digital doors' for cyber-crime and cyber-security issues, which has had an even greater exponential effect on the need for organisations and individuals to be even more digitally savvy (Nabe, No date).
This means that, just like it is every Vocational Education and Training (VET) trainers' responsibility to develop their students' Language, Literacy and Numeracy (LLN) skills, it is also now, more than ever, every VET trainers' responsibility to develop their students' digital literacy skills, moving LLN into LLND.
The Guide to Developing Student Digital Literacy Skills supports this need.
This Guide helps VET trainers:
prepare to implement digital literacy skill development activities in their training
adopt strategies for developing specific industry and generic digital literacy skills in their students
find ways to guide and let go by moving from being teacher-centred to learning centred
ensure their students are able to work successfully and safely online
This blog post was written by Allison Miller, Director and Lead Consultant of Digital Capability.
Allison ran the following webinars in conjunction with Skills Education (recordings are available):
The Digital Literacy Skills Every Cert IV TAE Trainer Needs and Should be Developing in their Students – 11 May 2022 – 12.00-1.00 pm Australian Eastern Standard Time (AEST)
What Every Trainer Needs to Effectively Use Digital Tech – 18 May 2022 – 12.00-1.00 pm AEST
She also has the 'Watch in Now' recording from her April 2021 Developing Students' Digital Literacy Skills webinar with Skills Education
References:
Australian Industry and Skills Committee. 2022. Digital skills, National Overview, https://nationalindustryinsights.aisc.net.au/national/digital-skills
Donnellan, A. 2020. The five megatrends that could shape Australia's future, CSIRO, https://algorithm.data61.csiro.au/the-five-megatrends-that-could-shape-australias-future/
McLean, P. Oldfield, J. & Stephens, A. 2020. Foundation Skills for Your Future Digital Framework, Commonwealth of Australia, https://www.dese.gov.au/uncategorised/resources/digital-literacy-skills-framework
Nabe. C. No date. Impact of COVID-19 on Cybersecurity. Deloitte, https://www2.deloitte.com/ch/en/pages/risk/articles/impact-covid-cybersecurity.html