Ways Registered Training Organisations (RTOs) can use Vocational Education and Training (VET) Applied Research to create value
Disruption to business and people's lives has been a constant over the last few years, igniting enormous change in how businesses operation and how people live and work.
This tumultuous environment requires Registered Training Organisations (RTOs) within the Australian Vocational Education and Training (VET) sector to be adaptive in delivering rapid training solutions which meet the immediate, emerging and future skill needs of the industries and communities which they support.
This agility, however, needs to be exercised using informed decision-making and be based on reliable and relevant information, which is achievable through applied research (Baimyrzaeva, 2018).
Applied research is a systemic inquiry or examination into finding a solution/s to real-world problems or opportunities using sound evidence and decision making (Baimyrzaeva, 2018). Applied research often builds upon and/or tests basic or pure research (Sarbunan, 2022).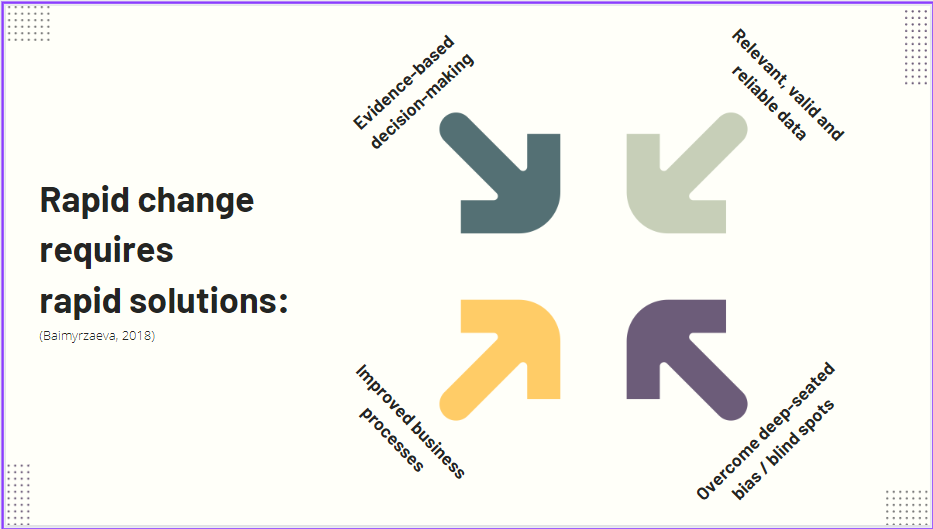 Using applied research in the VET sector (VET applied research) offers RTOs the opportunity to deal with disruption and rapid change, while creating value, by (Baimyrzaeva, 2018):
providing real solutions and improved business processes, and
using a lens which overcomes potential deep-seated bias / blind spots
VET applied research is already being used to successfully create value through the development of emerging and future skill needs in Europe (European Union, 2022), Canada (Alvarez-Galvan, et al, 2015) and elsewhere, including Australia (Simon & Beddie, 2017).
Some Australian RTOs are using VET applied research to create value by:
supporting industries to deal with disruptive technological change, and by using innovative training practices which reflect the skills needed to support these changes (Holmesglen Centre for Applied Research and Innovation, 2019)
improving training and assessment practices through action-based learning and development programs so trainers and assessors who can get to the core of what works best for their learners (South West TAFE, 2018)
developing their students' real world skills by using applied research as a pedagogy (RMIT, 2021)
offering training needs analysis services to businesses to ensure that their staff have the right skills, both now and into the future (TAFE NSW Enterprise, 2022; TAFE Queensland, No Date)
VET applied research skills are being developed by Diploma of VET / Diploma of Training Design and Development students through the assessments that they undertake in the following units:
TAEDES505 – Evaluate a training program: where students evaluate a training program using applied research methodologies, supported by key criteria such as Standards for RTOs (2015), industry / professional standards and/or organisational goals, values, policies and procedures, to frame their research
TAERES501 – Apply research to training and assessment practice: where students undertake research into ways they can improve a component of their RTO's training and assessment practices, framed around educational theories, and which is unique to their setting
However, not all VET applied research creates the same value.
Value creation occurs when actions are taken to increase the real or perceived value of products and processes through entrepreneurial and innovative activities (Galindo-Martín & Mendez-Picazo, 2020). Successful entrepreneurial and innovative activity is enabled through evidence-based decision-making (Frese et al, 2014; Truog, 2021).
Based on these two premises, it can be shown that different VET applied research opportunities create different value outcomes, as outlined in the following VET Applied Research Value Creation Opportunities table (Miller, 2022):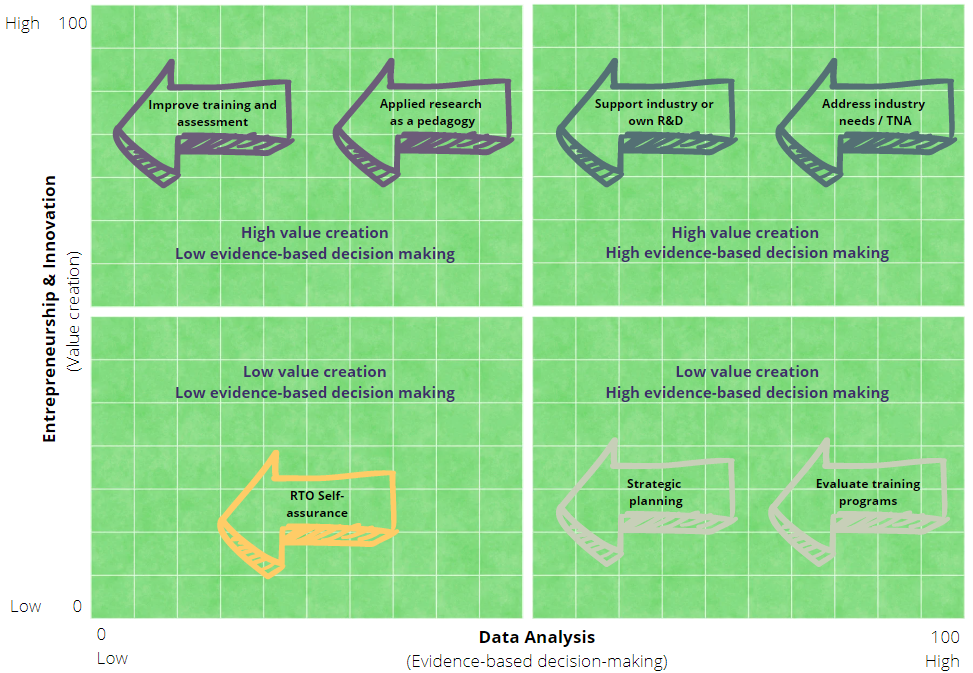 RTO leaders can create value for their RTO through:
Growing and maintaining existing revenue streams by using VET applied research in:
professional development programs for their trainers and assessors which utilise action-based research approaches
using applied research as a pedagogy
encouraging their trainers and assessors to undertake the TAEDES505 and TAERES501 units
Diversifying into new revenue streams by using VET applied research when:
working with industry / business partners, or for your own RTO's internal benefit, through research and development (R&D) practices
offering training needs analysis services to businesses in their industries
RTOs do not need to do invest in VET applied research on their own.
They can do this through:
working co-opetitively with other RTOs
developing research partnerships with key industry or professional bodies / university academics or departments or other researchers
facilitating or joining Co-labs, Communities of Practice, Professional Learning Communities or through other collaborations
applying for R&D grants / Workforce Development funding
This blog post was written by Allison Miller, Digital Capability's Director and Lead Consultant on 6 September 2022
You can:
Contact Digital Capability to learn about how your RTO can create more value using VET applied research.
References
Alvarez-Galvan, JL. Field, S. Kuczera, M. Musset, P. Windisch, HC. 2015. A Skills Beyond School Commentary on Canada, OECD, https://www.oecd.org/education/a-skills-beyond-school-commentary-on-canada.pdf
Baimyrzaeva, M. 2018. Beginners' Guide for Applied Research Process: What is it, and why and how to do it, Occasional Paper #4, University of Centre Asia
European Union. 2022. Partnerships for Innovation – Forward-Looking Projects – Vocational Education and Training (VET), https://ec.europa.eu/info/funding-tenders/opportunities/portal/screen/opportunities/topic-details/erasmus-edu-2022-pi-forward-lot2
Frese, M. Rousseau, DM. & Wiklund, J. 2014. The Emergence of Evidence-Based Entrepreneurship, Entrepreneurship: Theory and practice, 38(2), https://www.researchgate.net/publication/260532683_The_Emergence_of_Evidence-Based_Entrepreneurship
Galindo-Martín, M. & Méndez-Picazo, M. 2020. Value Creation, Innovation, and Entrepreneurship: Feedback Effects In M. Galindo-Martín, M. Mendez-Picazo, & M. Castaño-Martínez (Ed.), Analyzing the Relationship Between Innovation, Value Creation, and Entrepreneurship, pp 1-20, IGI Global. https://doi.org/10.4018/978-1-7998-1169-5.ch001
Holmesglen Centre for Applied Research and Innovation. 2019. Holmesglen Research 2018-2019, https://holmesglen.edu.au/Holmesglen/media/PDFs/B3721119-Applied-Research-and-Innovation-2019-Report.pdf
Miller, A. 2022, Enabling VET's applied research capability to support Australia's transformative future, 31st National Vocational Education and Training Research Conference, https://vital.voced.edu.au/vital/access/services/Download/ngv:94329/SOURCE216?view=true
RMIT. 2021, Naming and claiming applied research in VET, https://www.rmit.edu.au/news/c4de/naming-and-claiming-applied-research-in-vet
Sarbunan, T. 2022. Whether You Know it or Not; Applied Research is the Boss, SSRN, https://papers.ssrn.com/sol3/papers.cfm?abstract_id=4033090
Simon, L. & Beddie, FM. 2017. Explaining the VET applied research developmental framework, NCVER –
https://www.ncver.edu.au/research-and-statistics/publications/all-publications/explaining-the-vet-applied-research-developmental-framework
South West TAFE. 2018. Position Description – Specialist Staff: Project Officer – Professional Educator College, https://swtafe.edu.au/media/1757/project-officer-professional-educator-college.pdf